JOE WALSH KICKS OFF HIS FOUNDATION, VETSAID, WITH 1ST ANNUAL BENEFIT SHOW
JOE WALSH KICKS OFF HIS FOUNDATION, VETSAID,
WITH 1ST ANNUAL BENEFIT SHOW TO HELP VETERANS AND THEIR
FAMILIES
ZAC BROWN BAND, GARY CLARK JR, AND KEITH URBAN TO JOIN WALSH ON
SEPTEMBER 20, 2017 AT THE EAGLEBANK ARENA IN FAIRFAX, VA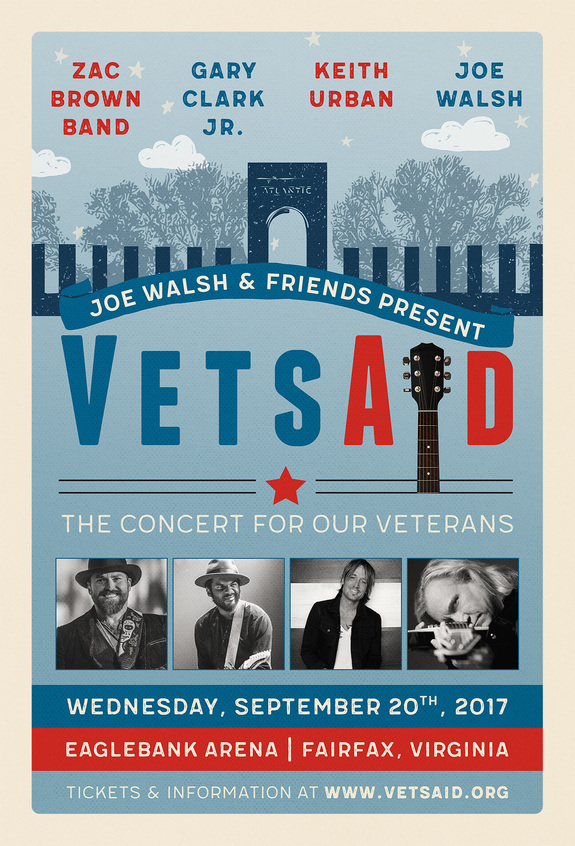 Today Joe Walsh, Rock and Roll Hall of Fame Inductee and multi GRAMMY Award recipient, announced his first annual concert to support VetsAid, his new 501(C)(3) certified national non-profit to help veterans and their families. Zac Brown Band, Gary Clark Jr. and four time GRAMMY Award recipient Keith Urban will be joining Joe on the bill September 20, 2017 at the EagleBank Arena in Fairfax, VA, with more artists to be announced soon.
Tickets will go on sale to the general public on Friday, July 21st @10AM. Fan Club members will have access to a pre-sale starting Tuesday, July 18th @ 10am thru Thursday, July 20th @ 10pm. Not a fan club member? Join HERE.
Veterans and their wellbeing have always been important to Walsh, a Gold Star family member himself. His father was a flight instructor for the first US operational jet powered aircraft, the Lockheed F-80 Shooting Star, and died while stationed, and on active duty on Okinawa when Joe was just 20 months old.
Joe has been involved with veterans' related causes for years, supporting various charities, visiting the Walter Reed National Military Medical Center and offering free guitar lessons to the wounded veterans there. He has campaigned for his good friend, Senator Tammy Duckworth of Illinois, an Iraq War veteran and double amputee.
Joe aims to use this platform to raise funds and awareness for the still urgent and significant needs of our returning soldiers. Through the establishment of VetsAid and its annual benefit concert, he wants to give back to those who have given so much in sacrifice for our country.
Consider these devastating statistics: In addition to the nearly 7,000 American Military Casualties of War from the wars in the Middle East since 2001, there are nearly 51,000 who made it home wounded.[1] Returning veterans have a 50% higher suicide rate than other civilians.[2]
VetsAid plans to directly support a variety of established and tested veterans-based charities, namely those with a proven track-record that take care to provide complete and holistic care for veterans and their families, physically, mentally, emotionally and spiritually.
"War is hell for everyone involved," Joe Walsh explains. "I lost my father when I was a baby, before I could even make a memory of him. I stopped counting the number of friends I lost in the Vietnam War or that came home forever scarred mentally or physically or both. We've only just begun to appreciate the long-term impacts on our troops home from Iraq. And in Afghanistan, the longest war in American history continues to drag on with no end in sight and just last month this administration committed to send thousands more of our young men and women into the conflict with no defined goal or strategy.[3]"
"I had to do something and seeing as though rock-and-roll seems to be what I do best," Walsh continues, "it's also the least I could do for those who have served and continue to serve our country. We're all in this together as Americans and seems to me lately that people are forgetting that. I asked my buddies Zac, Gary and Keith to step up and I'm so grateful that they did. Let's put on a show, raise some money and celebrate our vets… and let's do it every year!"
Ticket info can be found HERE.